News
---
AmCham
February 21, 2020

February 21, 2020

February 20, 2020

February 20, 2020

February 19, 2020

February 13, 2020

February 12, 2020

February 11, 2020

February 11, 2020

February 6, 2020

February 5, 2020

February 3, 2020

February 3, 2020

January 31, 2020

January 31, 2020

January 30, 2020

January 30, 2020

January 30, 2020

January 28, 2020

January 28, 2020

January 27, 2020

January 24, 2020

January 23, 2020

January 22, 2020

January 16, 2020

January 13, 2020

January 3, 2020

December 23, 2019

December 16, 2019

December 12, 2019

December 6, 2019

December 5, 2019

December 4, 2019

December 4, 2019

December 2, 2019

November 27, 2019

November 21, 2019

November 19, 2019

November 15, 2019

November 11, 2019

November 11, 2019

November 8, 2019

November 4, 2019

November 1, 2019

October 28, 2019

October 18, 2019

October 18, 2019

October 17, 2019

October 15, 2019

October 8, 2019

October 4, 2019

October 4, 2019

September 27, 2019

September 11, 2019

September 11, 2019

September 6, 2019

August 29, 2019

August 23, 2019

August 23, 2019

August 22, 2019

August 12, 2019

July 25, 2019

July 24, 2019

July 22, 2019

July 15, 2019

July 11, 2019

July 11, 2019

July 8, 2019

June 28, 2019

June 20, 2019

June 18, 2019

June 7, 2019

June 7, 2019

June 7, 2019

June 7, 2019

May 31, 2019

May 24, 2019

May 24, 2019
Events
---
Upcoming Events
March 6, 2020




March 10, 2020




March 20, 2020



Members Spotlight
Current number of members
131

HR Over Coffee
September 19, 2018
"HR over Coffee" is a series of meetings in an informal environment where HR managers & specialists have the opportunity to explore solutions to the problems their HR departments face daily and to share their own experience in varied contexts and circumstances.
Date: September 19
Time: 8:45-10:15
Venue: Delice d`Ange (117/2, 31 august str.), 2nd fl.
Topic: Refreshed Approach to Talent Management
Moderators: Svelana Bodaci, Modlcell and Tatiana Josan, Mary Kay
Working Language: Romanian
Should you be interested in joining HR Committee activities, please contact Elena Buzu, Committee Coordinator at 211 81 or elenabuzu@amcham.md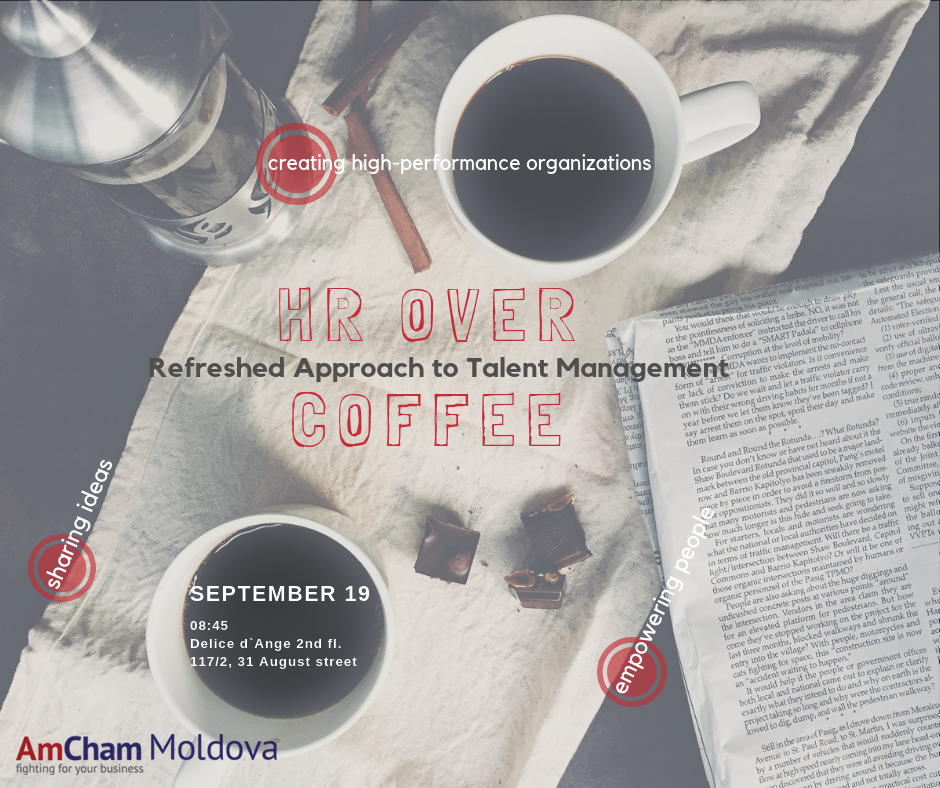 Open to AmCham members and partners only.