The Ultimate Charity Surprise Food Challenge where you will have the chance to spend a relaxing afternoon in a great company while enjoying good wine from Bostavan, craft beers from Labrewtory and delicious food and tasty desserts from DC Donuts&Coffee.
Date: October 12
Time: 14:00
Venue: Labrewtory Brewing Company (77 Muncesti str.)
The following Chefs have been challenged to surprise us by cooking their favourite dish, and we challenge you to come and taste it:

• Chef Andrei Lazari from Courtyard by Marriott;
• Chef Andrei Dascăl from Rozmarin Cafe;
• Chef Alexei Poleakov from GastHaus;
• Chef Igor Griza from Parol;
• Chef Giuliano Valrter Casella from Hostaria Amarcord;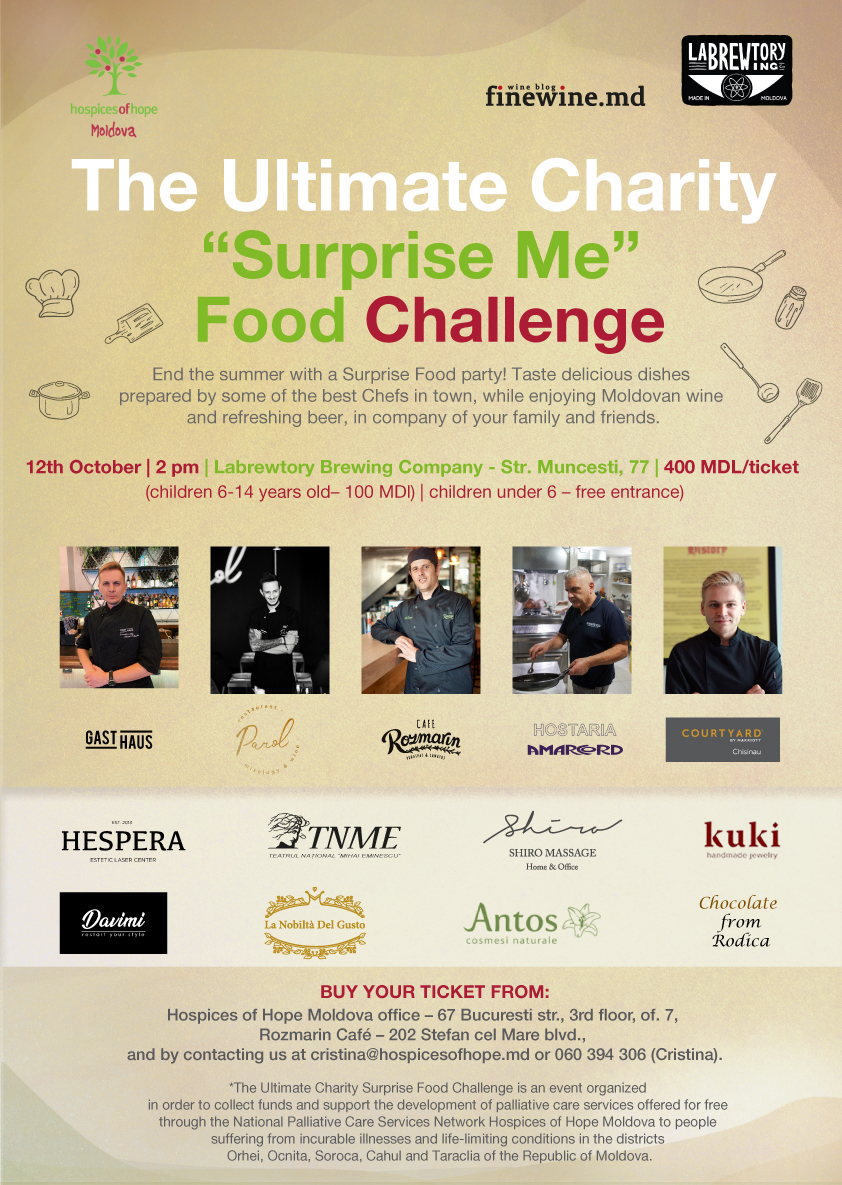 During this special afternoon you will also have the chance to try your luck and win amazing prizes such as: sets of products from La Nobiltà Del Gusto, handmade chocolate sets from Rodica Spînu, vouchers from Davimi, invitations to theater plays from Teatrul National "Mihai Eminescu", massage vouchers Shiro Massage, natural cosmetic products from Antos cosmetică naturală, vouchers for SPA procedures from Hespera, jewelries Kuki and a painting created by our mobile team in Soroca.

NUMBER OF TICKETS IS LIMITED! The tickets are 400 MDL/person. [Free entrance for children under 6 (accompanied by adults) / 100 MDL for children from 6 to 14 years old]. In order to get your ticket please reply to this email or call us at 060 394 306.

Tickets can also be purchased at the Office of Hospices of Hope Moldova (3rd Floor, 67 Bucuresti Str.) and Rozmarin Café (202 Stefan cel Mare blvd).
All benefits of the event are directed to support the provision of palliative care services in the regions of the Republic of Moldova, offered by mobile, multidisciplinary teams, to people suffering from incurable illness and life-limiting diseases through the National Palliative Care Services Network Hospices of Hope Moldova. Since the launch of the Network, more than 1100 beneficiaries have received care and comfort, allowing them to live and die without pain and with dignity, among their closed ones.

For any questions, please do not hesitate to contact us at cristina@hospicesofhope.md address or at 060 394 306.