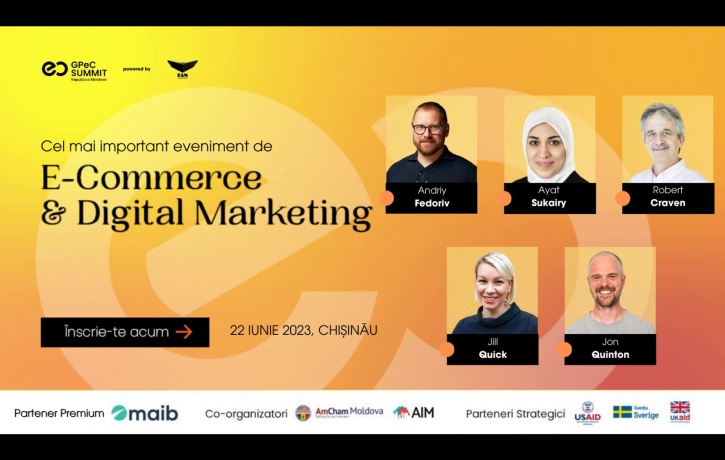 Evenimentul a reunit cinci speakeri internaționali de top din SUA, Marea Britanie și Ucraina, precum și 16 profesioniști din România și Republica Moldova pentru o zi întreagă de Conferință de E-Commerce & Digital Marketing, concomitent cu o expoziție a afacerilor online și a furnizorilor de servicii de comerț electronic și marketing digital.
Comerțul electronic: potențial substanțial de creștere chiar și în perspectiva unor condiții economice nefavorabile
Conferința a fost deschisă de reprezentanții organizatorilor – Andrei Radu, CEO & Founder GPeC, și de Mila Malairău, directorul executiv al AmCham Moldova – care au evidențiat importanța organizării unui astfel de eveniment pentru dezvoltarea industriei locale, industrie care se bucura de un potențial enorm de dezvoltare în următorii ani.
"Un lucru interesant e că tehnologia evoluează într-un ritm atât de alert încât, chiar dacă suntem la început de drum în Republica Moldova, recuperăm destul de repede decalajul. Moldova are un potențial foarte mare de a crește, iar antreprenorii înțeleg cu adevărat că online-ul este un canal de care dacă te ocupi îți aduce la un moment dat mai multe vânzări decât offline-ul și cu un efort ceva mai mic", a declarat Andrei Radu.
"Ceea ce urmărim este să dezvoltăm comerțul electronic, capacitatea de a vinde pe online. Noi am identificat industriile care fac împreună ecosistemul comerțului electronic. Suntem interesați să fim competitivi cu produsele noastre pe piețele externe, dar și de a oferi cumpărătorilor moldoveni bunurile importate prin comerț electronic", a adăugat Mila Malairău.
Rețeta succesului a constat în echipa locală
Prima sesiune a conferinței a fost dedicată oportunităților pieței de comerț electronic din Republica Moldova așa cum au fost ele identificate de unul dintre cei mai importanți jucători din sfera de logistica si curierat, FAN Courier. Cornel Morcov, Chief Commercial Officer FAN Courier, a subliniat că, pentru a se putea dezvolta în mod consistent, magazinele online trebuie să dispună de o gamă variată de produse, ceea ce aduce clienți noi pe site și mai multe comenzi. "Ca să ne adaptăm la diferențele culturale ale diferitor țări, trebuie să ne autoeducăm, întotdeauna să ascultăm nevoile clienților. Ele sunt unele standardizate, în funcție de industrie, iar altele punctuale."
Mărfuri variate, oportunitatea unei piețe mai mari și legislație mai clară
Prima sesiune de dezbateri a avut ca temă "Logistică, Fulfillment și Curierat: provocările comerțului electronic din Moldova, soluții și oportunități de creștere". În context, Vadim Buzdugan, CEO | Smart.md, a menționat importanța genului acesta de eveniment pentru antreprenori și pentru startul în comerț electronic, el însuși fondând magazinul online în 2013, în urma unui eveniment similar, începând cu electrocasnice și extinzând gama cu mobilă, fashion, sport și mai ales, importul de branduri pe care clienții nu le găsesc în Republica Moldova.
Legat de oportunitățile viitoare, Bogdan Colceriu, CEO Frisbo, a specificat că: "Piața din Republica Moldova este abia la început. Intrarea în UE va însemna o piață mai mare pentru orice magazin online din Republica Moldova și, la fel, pentru orice magazin online din Europa să poată vinde mai ușor în Moldova. Lucrurile se vor simplifica foarte mult".
Totodată, Mihai Burunciuc, Policy Manager | AmCham Moldova, a precizat: "Pe teritoriul Republicii Moldova, 80-90% din mărfurile comandate online sunt achitate cu prezență fizică: fie prin intermediul cardului, fie în numerar. Legat de achitarea online pe ciclul închis, legislația prevede în mod expres că nu este nevoie să fie eliberat bon fiscal, este suficient documentul electronic primar emis în momentul achitării. În cazul achitării fizice, legislația fiscală obligă comerciantul să aibă asupra sa aparatul de casă mobil și terminalul".
Cinci speakeri internaționali legendari au vorbit, pentru prima oară, la GPeC Moldova: Ayat Shukairy, Jill Quick, Andriy Fedoriv, Jon Quinton și Robert Craven
Principalele idei expuse pe scenă de către invitații internaționali la aceasta prima ediție au vizat:
Există foarte multe surse de date pe care un magazin online le are la îndemână și pe care se poate baza atunci când vrea să afle mai multe despre fluxul de vizite, interese și nevoi ale utilizatorului și procesul de achiziție. Cheia este definirea zonelor care contează cel mai mult în strategia de dezvoltare a magazinului. "You need to make sure that you understand what is happening on the web site, how the visitors are behaving, is my brand distinctive and convinces the visitors that this is the product they need." a menționat între altele Ayat Shukairy, Best-Selling Author & Authority on Marketing Optimization, primul speaker internațional care a urcat pe scena conferinței.
Dacă nu folosești datele pe care le ai la îndemână, de ce le mai colectezi?, a fost întrebarea adresată audienței de Jill Quick, Digital Marketing | The Coloring in Department, în speechul său Unveiling GA4's Secret: Empower Your Business with Actionable Insights; a accentuat printre altele că, pentru cei mai mulți profesioniști în e-commerce, sunt trei tipuri de date pe care trebuie să le exporte: (1) cum mă găsesc oamenii, (2) ce fac ei pe site-ul meu, (3) care sunt paginile top & trending și, dacă au avut setat vreun "event" sunt utile și categoriile "Action" și "Labels".
Cele mai puternice branduri se bazează pe crearea de obiceiuri. Oamenii fac alegeri fără să se gândească: au o problemă, au un obicei (o obișnuință) și au un mod de a o rezolva – prin magazinul online sau în aplicație. Asta înseamnă să fii în comerț electronic și marketing digital – a menționat Andriy Fedoriv, Marketing specialist and Author of Brand Father.
"Always try something different: the biggest challenge is the mind shift în terms of how you approach the business", a fost sfatul lui Jon Quinton, Performance Marketing & Paid Media Specialist. Totodată, el a impulsionat audiența să urmărească piețele mai dezvoltate pentru inspirație de business, dar să își dezvolte afacerile conform cu specificul pieței locale: "Cea mai mare greșeală este să încerci să faci lucrurile la fel și să presupui că un client va vrea același tip de serviciu".
Robert Craven, Business Growth Consultant, Author & Speaker, a oferit câteva sfaturi publicului pentru a deveni mai performanți în mediul de business: "Cele mai utile calități ale celor ce performează la standarde ridicate în business țin de disciplină, pasiune și entuziasm. Cel mai important este clientul, înțelegerea așteptărilor lui de la tine, modul în care gândește despre tine. Marketingul este motorul care tracteaza și celelalte zone – de exemplu, finanțele".
Oportunitățile și ingredientele succesului pentru un business online în Republica Moldova
Pe piața din Republica Moldova lipsesc unele oportunități care există în România, dar sunt alte soluții, ca de exemplu Meta, a accentuat în intervenția sa Bianca Vlaston, Regional Meta Lead Balkans | Httpool, în cadrul panelului dedicat Instrumentelor de Digital Marketing pentru creșterea vânzărilor online. "Când te apuci să faci campanie, prioritizarea obiectivului este cea care îți dictează și măsurătorile ulterioare, și optimizările pe care le faci în funcție de rezultatul obținut. Dacă vrei să lansezi un produs nou, nu te apuci să faci campanie de vânzare, ci trebuie să o dublezi cu o campanie de awareness, pentru că vei avea rezultate proaste."
Totodată, canalele care generează cash instant ar trebui să fie prioritizate de către afacerile aflate la început de drum: canale care generează vânzări cât mai repede, cele de publicitate plătită, gen Google, FB. PR, branding, campanii de SEO, a completat George Rășchior, General Manager | SINAPS Marketing.
Conform declarației Feliciei Jereghi, Managing Director | Indigo Grup, studiile recente arată că în Republica Moldova cel mai mult atrage atenția digitalul, pe locul doi sunt televiziunile, iar pe trei – influencerii, care le conferă foarte multă încredere consumatorilor.
Interesul de a află și de a înțelege modul în care se vinde un produs, cât de utile și în ce mod se pot folosi instrumentele de marketing digital sunt cruciale pentru succesul unei afaceri în mediul online sau pentru migrarea unui business offline către online – și această migrare necesitând la fel de multe cunoștințe și poate chiar mai multe conform spuselor lui Igor Strechi, CTO Purple Media.
Daniel Spiridon, VP Business Development and Strategy eMAG, a subliniat din nou potențialul de dezvoltare al Republicii Moldova în ceea ce privește dezvoltarea de afaceri în mediul digital: "Comerțul electronic este un domeniu în care noi vedem o foarte mare creștere, foarte mult potențial în condițiile în care se vorbește mai mult negativ decât pozitiv despre tot ce se întâmplă la nivel economic".
Antreprenorii din Republica Moldova prezenți pe scenă în cadrul panelului Experiences from Moldova au povestit succesele lor, dar și pașii pe care i-au întreprins până a ajunge la nivelul la care sunt acum, precum și oportunitățile de dezvoltare pe care le au la îndemână pe piață locală: Alexei Panin (Digital Business Director MAIB), Julia Allert, Victor Nistorică (CEO Brutăria Bardar), Vlad Vedrașco (Digital Advertising Expert) au împărtășit provocările, dar și oportunitățile pe care le-au valorificat în dezvoltarea business-urilor pe care le conduc.
Industria de fashion este o industrie transfrontalieră, clienți existând în fiecare țară, dacă focusul e pe îmbunătățirea produselor și targetarea corectă a clienților a dezvăluit Julia Allert.
Mediul online a reprezentat oportunitatea unei reinventări rapide în perioada pandemiei pentru Brutăria Bardar – care acum, prin intermediul site-ului, acoperă 15 – 20% din vânzări pe categorii netradiționale pentru online.
Strategia că să fii eficient astăzi e să fii autentic prin conținut, prin comunicare fluentă pe site, pe platforma de vânzare, a afirmat Vlad Vedrașco.
Alexei Panin a povestit despre Programul GoEcomm pentru antreprenorii care vor să iasă, să-și vândă produsele pe online. Prin acest program li se oferă suport pentru a lansa o platformă de comerț electronic. În cazul în care încep să-și vândă produsele online obțin și un grant sub formă de servicii pe partea de marketing, de promovare a produselor.
Dacă doriți să retrăiti atmosfera GPeC de la Chișinău va invităm să accesați:
aici
.
_______________________________________________
GPeC Republica Moldova este un eveniment organizat în parteneriat cu: AmCham Moldova, AIM
Evenimentul a fost organizat de AmCham Moldova și Alianța Întreprinderilor Mici și Mijlocii din Moldova (AIM) în parteneriat cu GPeC România și Proiectul Tehnologiile Viitorului în Moldova, finanțat de USAID, Suedia și Marea Britanie, și cu susținerea partenerului principal: Fan Courier și a partenerului premium: maib.