News
---
AmCham
June 18, 2019

June 7, 2019

June 7, 2019

June 7, 2019

June 7, 2019

May 31, 2019

May 24, 2019

May 24, 2019

May 21, 2019

May 17, 2019

May 17, 2019

May 15, 2019

April 19, 2019

April 5, 2019

April 5, 2019

March 29, 2019

March 25, 2019

March 22, 2019

March 22, 2019

March 22, 2019

March 21, 2019

March 11, 2019

March 1, 2019

February 21, 2019

February 18, 2019

February 18, 2019

February 12, 2019

February 11, 2019

February 11, 2019

January 31, 2019

January 31, 2019

January 18, 2019

January 14, 2019

January 9, 2019

December 28, 2018

December 18, 2018

December 14, 2018

December 13, 2018

December 11, 2018

December 11, 2018

November 30, 2018

November 29, 2018

November 14, 2018

November 9, 2018

November 8, 2018

November 5, 2018

October 31, 2018

October 25, 2018

October 25, 2018

October 24, 2018

October 23, 2018

October 22, 2018

October 12, 2018

October 11, 2018

October 8, 2018

October 5, 2018

October 5, 2018

October 3, 2018

October 1, 2018

September 28, 2018
Events
---
Upcoming Events
July 4, 2019




July 5, 2019




AmCham Workshop on Data Protection Regulation in Moldova
April 25, 2018
On April 25, AmCham Moldova in partnership with Jekaterina Macuka, Resident Twinning Adviser to the EU Twinning Project "Capacity Building of the National Centre for Personal Data Protection of the Republic of Moldova", organized a workshop for members regarding the upcoming GDPR regulation that will have a major impact on businesses. More than 60 people attended the event to find out what and how the GDPR is going to be implemented in the national legal framework and how it complies with EU regulation on data protection.

The second half of the session was followed by a Q&A session from participants coming from various economic fields.
In case you didn't receive the survey, please send your email address to sergiuchirica@amcham.md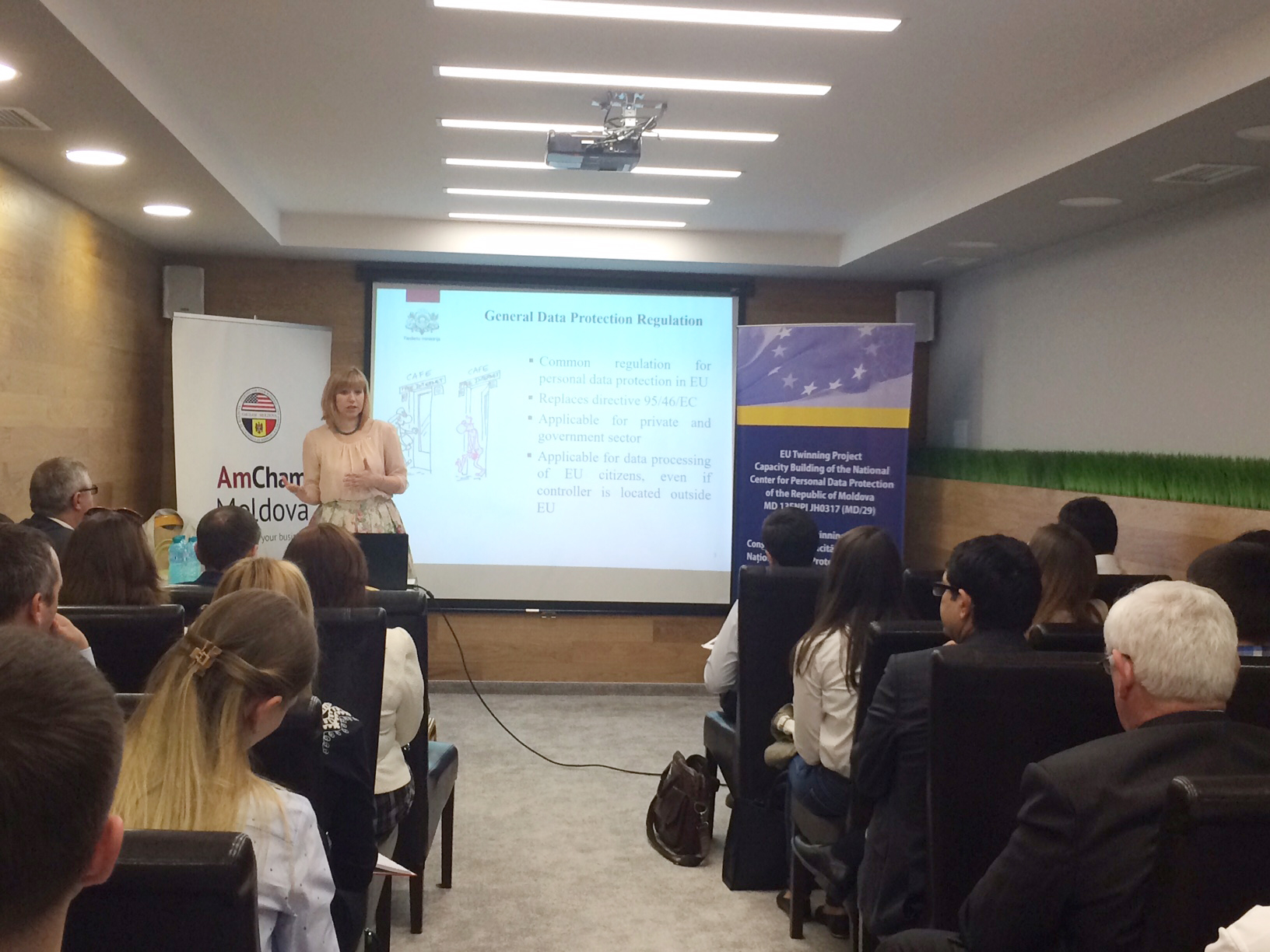 Open to AmCham members and partners only.