News
---
AmCham
January 16, 2020

January 13, 2020

January 3, 2020

December 23, 2019

December 16, 2019

December 12, 2019

December 6, 2019

December 5, 2019

December 4, 2019

December 4, 2019

December 2, 2019

November 27, 2019

November 21, 2019

November 19, 2019

November 15, 2019

November 11, 2019

November 11, 2019

November 8, 2019

November 4, 2019

November 1, 2019

October 28, 2019

October 18, 2019

October 18, 2019

October 17, 2019

October 15, 2019

October 8, 2019

October 4, 2019

October 4, 2019

September 27, 2019

September 11, 2019

September 11, 2019

September 6, 2019

August 29, 2019

August 23, 2019

August 23, 2019

August 22, 2019

August 12, 2019

July 25, 2019

July 24, 2019

July 22, 2019

July 15, 2019

July 11, 2019

July 11, 2019

July 8, 2019

June 28, 2019

June 20, 2019

June 18, 2019

June 7, 2019

June 7, 2019

June 7, 2019

June 7, 2019

May 31, 2019

May 24, 2019

May 24, 2019

May 21, 2019

May 17, 2019

May 17, 2019

May 15, 2019
Events
---
Upcoming Events
January 22, 2020




January 22, 2020




January 23, 2020




January 24, 2020




January 30, 2020




FinComBank Has Launched a National Campaign for Pupils #FinComEducation
November 8, 2019
FinComBank has announced the launch of the national financial education campaign #FinComEducation that is addressed for pupils from elementary school, secondary school, high school and college. Specialists of the Bank are going to visit more than 100 educational institutions with a special program, such as those from Chisinau, Falesti, Balti, Sangerei, Orhei, Straseni, Calarasi, Cahul, Riscani, Ungheni, Floresti, Nisporeni, Soroca, Cimișlia, Edineț, Drochia, Donduseni, Causeni et al.

The purpose of this program is to develop a financial behavior, which includes useful tips and advices necessary for each modern child. Pupils will learn how to manage their money and save smartly. They will learn about the main benefits of using the bank card as a payment tool and what are the benefits of cashless payments. Pupils will also learn during this program about the security rules that they need to know when they use a bank card.

FinComBank supports the development of the financial education, which related to the use of banking products, services and technologies by the young generation, following the example of European countries and, in general, international practice. FinComBank has developed a special product for those who have not yet reached the age of majority, additional card for pupils. This card is safe and will allow pupils to get the first skills in using a bank card and will help pupils to make their own independent decisions. At the same time, parents will be able to give their children "pocket money" directly to the card, which is a must have in the age of modern technologies. The additional card for pupils will allow parents to teach their children how to save and spend money as well as how to use the banking services.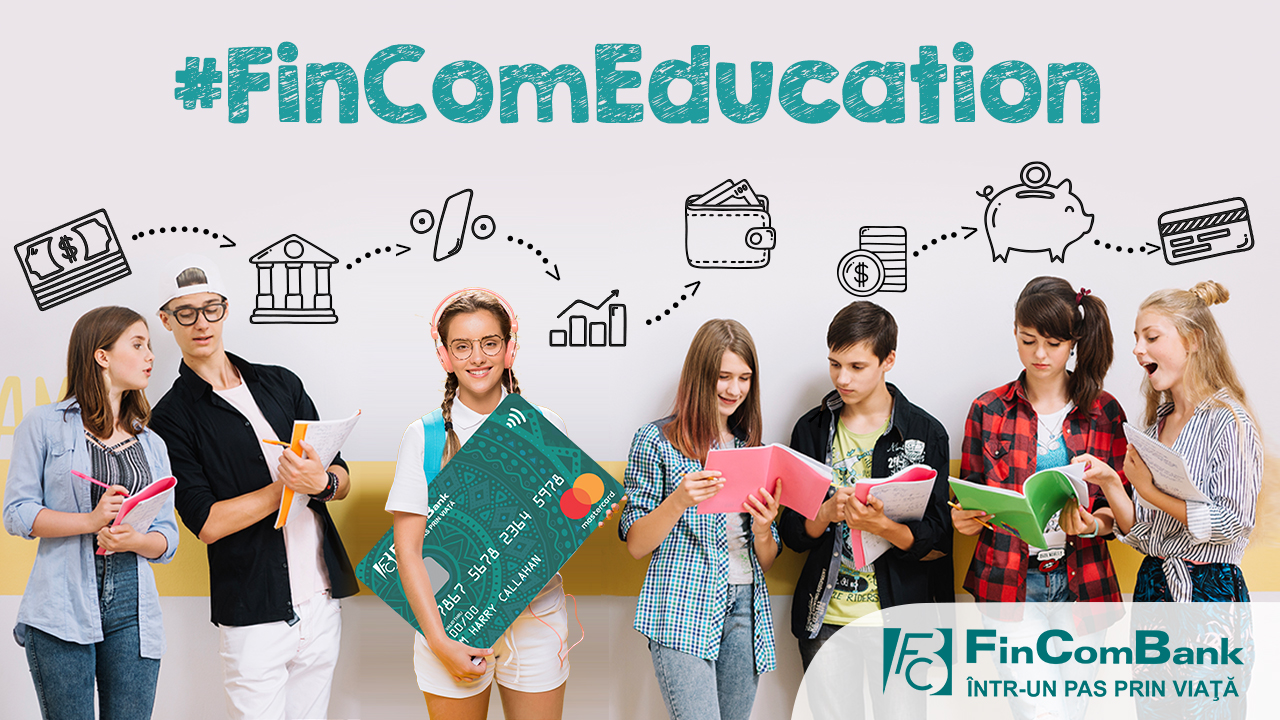 The FinComBank card is accessible to all, because if you open the standard card ONLINE you pay:
• 0 MDL for opening a card for the parent
• 0 MDL for opening an additional card for the pupil
• 0 MDL for monthly service of the card for the pupil
• 0 MDL for cash withdrawals from any ATM in the country, of which 3 withdrawals are from ATMs of other banks from Moldova, and 3 withdrawals are from FinComBank ATMs
• 0 MDL for connecting and using the FinComPay Internet Banking for the parent
Set the limit of monthly expenses for the additional card for pupils up to 5000 MDL or 250 USD/EUR and be informed about the child's expenses by SMS-Notification.
Find out more about the product HERE!
#FinComEducation is coming soon in your city! See you soon!

Read the Romanian version
Please contact us for more information:
Tel. (+ 373-22) 26-99-99
Email: fincom@fincombank.com
website: www.fincombank.cоm
FinComBank
---