News
---
AmCham
June 7, 2019

June 7, 2019

June 7, 2019

June 7, 2019

May 31, 2019

May 24, 2019

May 24, 2019

May 21, 2019

May 17, 2019

May 17, 2019

May 15, 2019

April 19, 2019

April 5, 2019

April 5, 2019

March 29, 2019

March 25, 2019

March 22, 2019

March 22, 2019

March 22, 2019

March 21, 2019

March 11, 2019

March 1, 2019

February 21, 2019

February 18, 2019

February 18, 2019

February 12, 2019

February 11, 2019

February 11, 2019

January 31, 2019

January 31, 2019

January 18, 2019

January 14, 2019

January 9, 2019

December 28, 2018

December 18, 2018

December 14, 2018

December 13, 2018

December 11, 2018

December 11, 2018

November 30, 2018

November 29, 2018

November 14, 2018

November 9, 2018

November 8, 2018

November 5, 2018

October 31, 2018

October 25, 2018

October 25, 2018

October 24, 2018

October 23, 2018

October 22, 2018

October 12, 2018

October 11, 2018

October 8, 2018

October 5, 2018

October 5, 2018

October 3, 2018

October 1, 2018

September 28, 2018
Events
---
Upcoming Events
June 20, 2019




July 4, 2019




July 5, 2019




Profitable Offer from Fincombank SA for Doctors and Pharmacists
June 7, 2018
Chisinau, July 6, 2018, FINCOMBANK S.A. sincerely congratulates all the doctors and pharmacists with their professional day- the Day of Doctor and Pharmacist!
Because we value the work and professionalism of employees in the medical system, FinComBank S.A. launched a special loan offer for all people working in the health sector in the Republic of Moldova.
In the period of 01-30 June 2018, everyone can benefit the loan on special conditions:
· Express Credit, which gives you the opportunity quickly get money for any need you may have, up to 150,000 lei, for a period of 5 years, without pledge. During promotional period, FinComBank S.A. reduced the interest rate from 6.99% to 4.99%! As well, FinComBank S.A. will not require your salary certificate!
· Credit Card OPTI, can be utilized anytime you needed to make purchases with your card, pay in shops or withdraw cash from ATM. During promotional period, FinComBank S.A. reduced the interest rate from 11,99 % to 9,99%. With Credit Card OPTI you will receive a loan of up to 150,000 lei for a period of up to 36 months. Moreover, if you turn the amount used within 60 days, then you won't pay any interest!
· Mortgage loan will allow you to buy the desired house or repair it. During promotional period, FinComBank S.A. offers a reduced rate of 6.99% for first year of loan. With FinComBank S.A. you will receive a loan for up to 20 years, up to 100% of requested sum, depending on the purpose and the guarantees provided.
It's time to enjoy the profit of your work with FinComBank S.A. It will be even easier to achieve your own goals!
Full information about all types of loans and its benefits can be found at https://fincombank.com/ro/credite-pentru-tine/.
The offer is valid until June 30, 2018.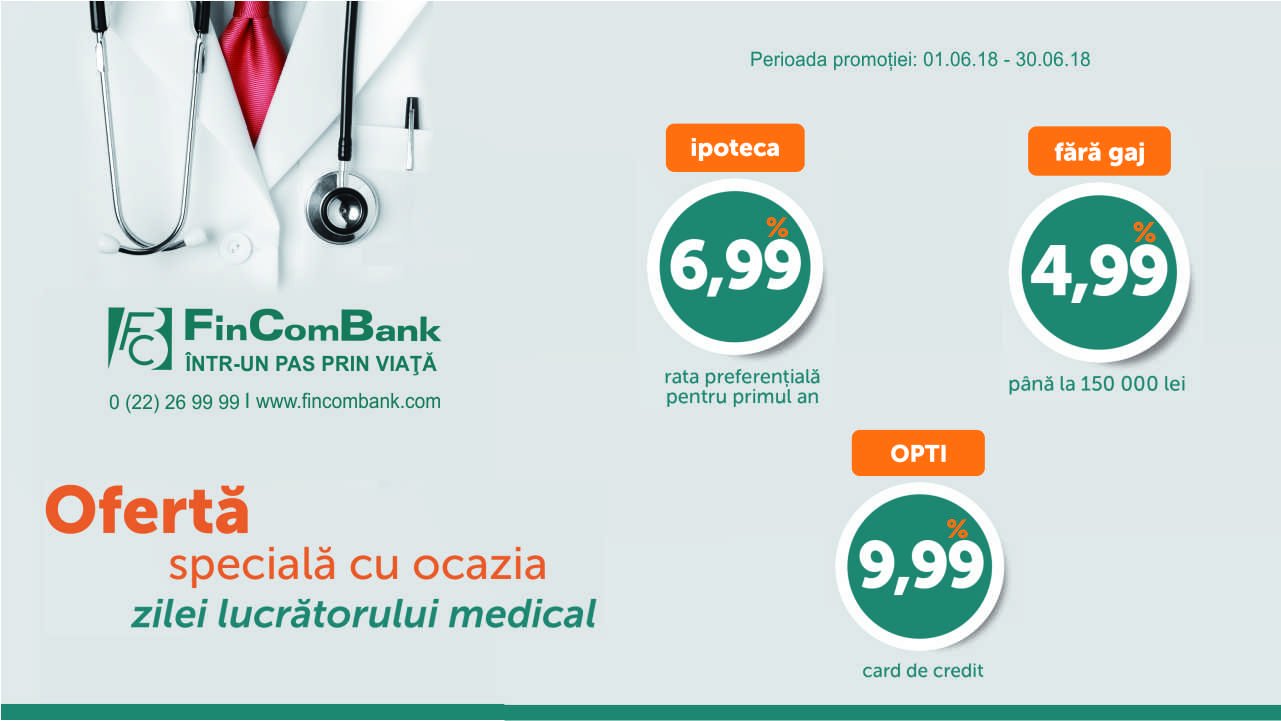 For additional information, please contact us:
Tel. (+ 373-22) 26-99-99
Email: fincom@fincombank.com, website: www.fincombank.cоm
_________________________________________________________________________________________________
About FinComBank S.A.:
FinComBank SA, was founded in 1993. Since then it is one of the leading commercial banks in the Republic of Moldova. FinComBank S.A. offers a wide range of corporate, investment and insurance banking services for both local and foreign citizens. Among the clients of FinComBank S.A. are individuals, micro, small and medium enterprises, as well as large enterprises that represent all the main sectors of the country's economy. Over the years, the Bank has been successfully cooperating with the World Bank, European Fund for Southeast Europe, Overseas Private Investment Corporation (OPIC). FinComBank is a member of the Rural Development Project (IFAD), the Village Investment and Services Project (RISP) and the Competitiveness Enhancement Project (PACI, PACII).
FinComBank
---