News
---
AmCham
June 18, 2019

June 7, 2019

June 7, 2019

June 7, 2019

June 7, 2019

May 31, 2019

May 24, 2019

May 24, 2019

May 21, 2019

May 17, 2019

May 17, 2019

May 15, 2019

April 19, 2019

April 5, 2019

April 5, 2019

March 29, 2019

March 25, 2019

March 22, 2019

March 22, 2019

March 22, 2019

March 21, 2019

March 11, 2019

March 1, 2019

February 21, 2019

February 18, 2019

February 18, 2019

February 12, 2019

February 11, 2019

February 11, 2019

January 31, 2019

January 31, 2019

January 18, 2019

January 14, 2019

January 9, 2019

December 28, 2018

December 18, 2018

December 14, 2018

December 13, 2018

December 11, 2018

December 11, 2018

November 30, 2018

November 29, 2018

November 14, 2018

November 9, 2018

November 8, 2018

November 5, 2018

October 31, 2018

October 25, 2018

October 25, 2018

October 24, 2018

October 23, 2018

October 22, 2018

October 12, 2018

October 11, 2018

October 8, 2018

October 5, 2018

October 5, 2018

October 3, 2018

October 1, 2018

September 28, 2018
Events
---
Upcoming Events
July 4, 2019




July 5, 2019




Take Care of Your Family Thanks to Additional Card for Your Children Issued by FinComBank S.A.
April 20, 2018
Give pocket money to your child directly on card. FinComBank S.A. announces the issue of the additional card to minors!

Chisinau, April 18, 2018. FinComBank S.A. introduces an additional card for a special category of clients: parents with minor children. The new product can be requested from any owner of the base card, issued by FinComBank S.A., for his 7-year-old children.

The additional card provides safety and easiness to use and will allow children to receive the first lessons of financial education in the family, the practical skills of using a bank card and learn how to make important decisions. Parents will be able to give their children "pocket money" directly on the additional card, which is a must in the era of modern technology.

This card can be used by minors to withdrow money at any ATM in the country or abroad, as well as to pay for services and products via POS terminals and Internet at a low cost within the monetary limit set by the parent who has requested for an additional card.

Furthermore! For more convenience of its clients, FinComBank S.A. offers the opportunity to open additional children's cards both in the Bank's branches and online, right on www.fincombank.com.
To use this online service, one should visit https://fincombank.com/ro/otkroj-dopolnitel-nuu-kartu-online-detam/. Thus, coming to the Bank is needed only when you should pick up an additional card ordered online!

"Development of FinComBank S.A. is achieved thanks to the trust that our customers. This is the strongest influence for us, so we want to reward them for caring for all members of their family and ensure their safety. The children's card will also be a good opportunity for parents to teach their children how to save, spend and accumulate money, and also use the banking services that are needed nowadays. We can say that there is a family financial education here", said Elena Stovbun, Deputy Chairman of the Bank's Management Board, Director of Business Development Department at FinComBank S.A.

For more detailed information about the new product "Additional Child Card" can be found at: https://fincombank.com/ro/success-card-card-online-1/.
The additional card has a standard validity period of 4 years. The child, upon reaching maturity, can still use an additional card on the conditions and rates of the "Additional Child Card" or change the card on his own name to standard conditions by requesting this at any Bank's branch.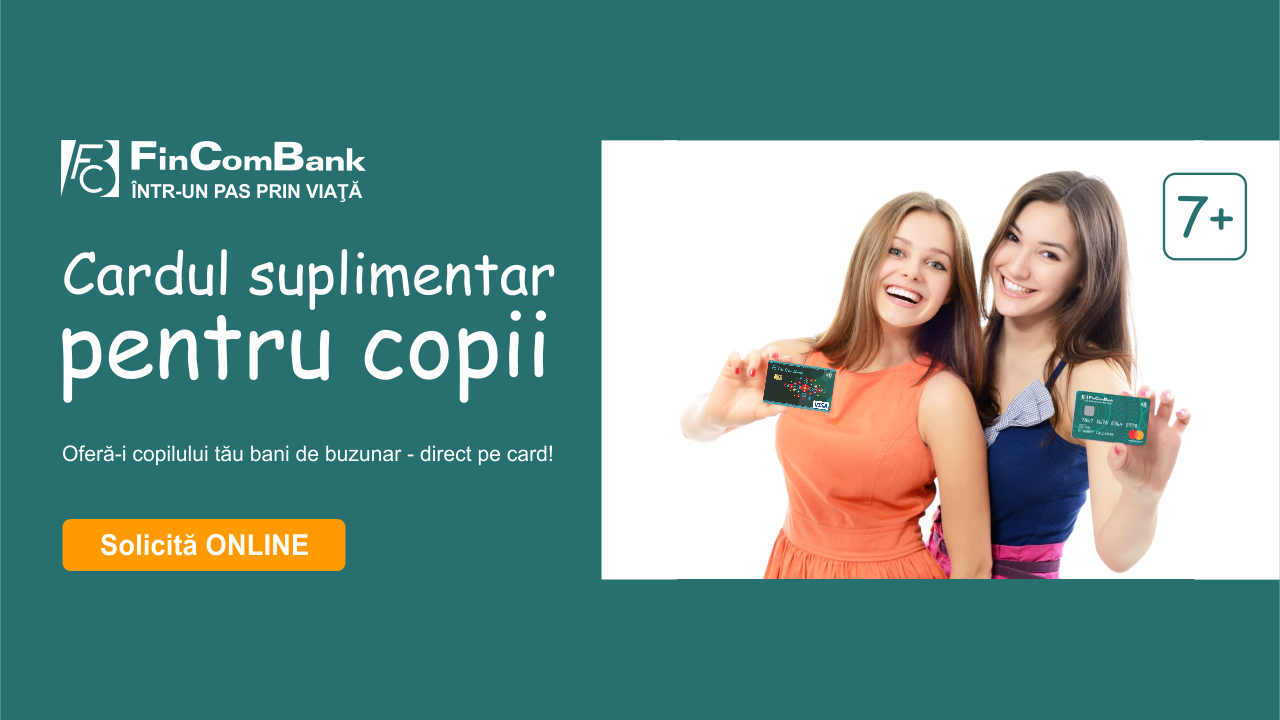 For more information, please contact us:
Tel. (+ 373-22) 26-99-99
Email: fincom@fincombank.com, website: www.fincombank.cоm
About FinComBank S.A.:
FinComBank SA, was founded in 1993. Since then it is one of the leading commercial banks in the Republic of Moldova. FinComBank S.A. offers a wide range of corporate, investment and insurance banking services for both local and foreign citizens. Among the clients of FinComBank S.A. are individuals, micro, small and medium enterprises, as well as large enterprises that represent all the main sectors of the country's economy. Over the years, the Bank has been successfully cooperating with the World Bank, European Fund for Southeast Europe, Overseas Private Investment Corporation (OPIC). FinComBank is a member of the Rural Development Project (IFAD), the Village Investment and Services Project (RISP) and the Competitiveness Enhancement Project (PACI, PACII).
Fagura
---